We recognize that all of our young patients are unique and deserve to receive dental care that reflects their individual needs. Our dental assistants are here to make your child's experience at Duke City Pediatric Dentistry as easy and stress-free as possible.
Usually found working alongside Dr. Coffman, our assistants help with many of the procedures and treatments your little one will receive at our office. They are dedicated individuals who look forward to building a relationship with you and your child
________________________________________________________________
Amantha
Office Manager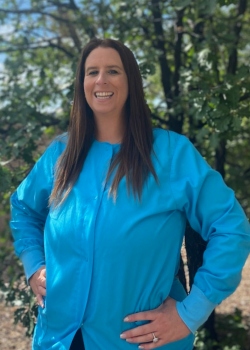 Amantha began her dental career about 12 years ago starting as a registered dental assistantt. Within her years of dentistry, she has had many experiences in working all positions but her favorite is office managing. Amantha always goes above and beyond not only for patients but for the staff as well. We welcome her to our practice as of July 2022!
Amantha was raised in Southern California and moved to New Mexico January 2021. She loves spending time with her Fiance and their 3 cats. Amantha also has a passion for dance, she actually teaches the Lindy Hop locally here in Albuquerque. So if you don't see her in the office, I am sure you will find her on the dance floor!
---
Deneen
Dental Assistant
I graduated from TVI In 2004 with a certificate in dental assisting along with my expanded function certifications in several procedures. Prior to joining Dr. Coffman's team in 2017, I worked in general dentistry and periodontics. Working at DCPD is like spending the day with my second family. I love working with a doctor who has strong ethics and a passion for providing the best dentistry to her patients.
I am a wife and mother to two children active in dance, music, sports, and scouting. I enjoy baking, crafting, and reading. If I get the chance to read in the mountains with a good cup of coffee, then I'm in heaven.
---
Valarie
Dental Assistant
I joined Dr. Coffman's team in 2020, bringing with me several years of experience in making dentistry as comfortable as possible. My biggest goal is helping kids leave with a positive view of dentistry, and even excited to come back!
---
Jennifer
Dental Assistant
I started in the dental field in 2011 and went to Oxnard High school in California and Pima for dental assisting. I assist the dentist during a variety of treatment procedures, help patients feel comfortable before, during, and after dental treatments, but my favorite part of the job is working with the kids!
I love spending my spare time with my son Jude, reading and shopping.
---
Jaylynn
Dental Assistant
I joined Dr. Coffman's team in 2021, bringing with me 2 years of dental experience. I am originally from Montana and enjoy camping, fishing, vacations, BBQ's, gardening and playing with my 2 daughters.
My favorite thing about working at DCPD is hearing the kid's stories. Peppa Pig and Minnie Mouse are my favorite cartoon characters and if I could make any flavor of toothpaste, it would be mermaid.
---
Paula
Treatment Coordinator
I've been in the dental field since 1993. I went to school for dental assisting and got my DANBE CDA certification with expanding functions. I used my many years of experience as a dental assistant to transition to a front-office position. I love helping our patients schedule and estimate their treatments.
I have been married for over 30 years and have two amazing children and two awesome dogs!
---
Judith
Scheduling Coordinator
I'm the one at the office answering the phone, making you feel welcome! I'm here to assist every parent with scheduling, insurance info, and answering any and all questions. I began my dental career in 2013, but in my spare time, I use my creative side to draw and paint.